Credit for the title of this blog goes to my husband, who pondered whether he should start his own blog about our son.
Yup, my son is one of those kids.
Here he is.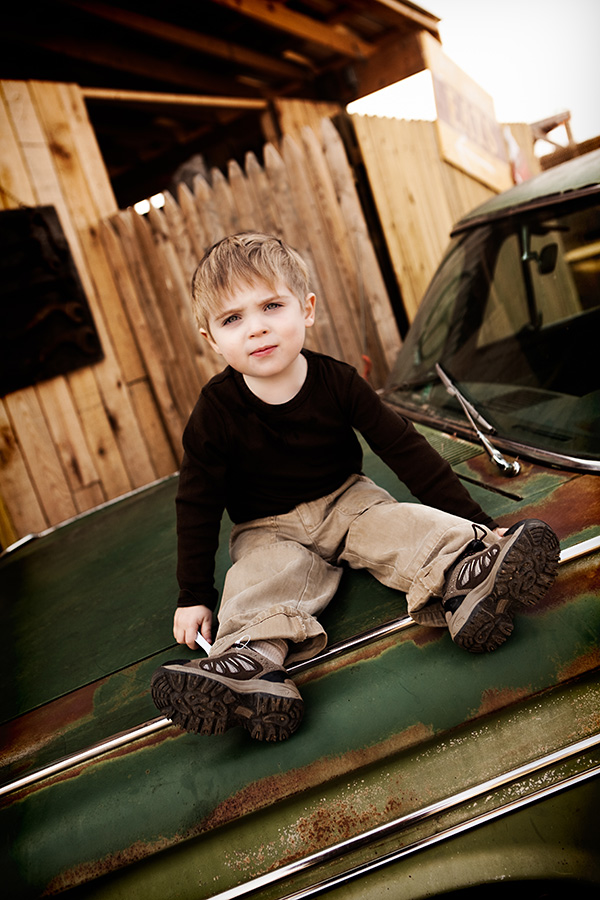 Isn't he a handsome boy?  Yup.  He is.  His good looks motivated me to truly polish my photography skills and make sure that I captured this kid as beautifully as he appears in real life.  He's a little squinty here, but he's looking into a sunny day.  He's also a very smiley boy.  Fortunately.
Last fall: I am now a full-time photographer.  Self-employed.  Working harder than I have EVER worked in my entire life.  Things are going really well.  My daughter is adorable.  I love my husband. We're throwing our first birthday party for our son.  Then, at about the same time my photography business starts really taking off, we learn that our son has autism.  The Big A.  Not as devastating as the "Big C", but still not a position in which I expected to find my son or myself. There are so many of us out there – families, parents, and children, who attend a meeting one day to see if "you could pretty please find a spot in your pre-school for my son – who has a few speech delays, but NOTHING else is wrong with him – and what? You think he's what? But he looks so normal.  So beautiful.  Surely you're mistaken."
It took the better part of a month this past fall for me to accept it.  And another month before I was ready to fully embrace the "lifestyle", if you can call it that.
There are so many appointments.  So many forms to fill out.  So many doctors.  So many IEP meetings.  So many "can anybody recommend a doctor" conversations.  So many thoughts that I have to push out of my head sometimes in order to focus on my business.  We now cram all sorts of supplements into his non-milk milk, and try and find gluten-free foods that this kid will actually eat.  Have you tasted gluten free bread?  No matter what they tell you, it sucks.  Seriously. Not. The Same. Thing.
Yes, he does ride the short-bus.  It picks him up every morning to take him to a school on the other end of the District, where he is one of the star pupils in his own classroom.  But hey.  It's one of those classrooms.  Not part of the "neurotypical" population.  Not one of the "Gen Ed" kids.  I guess am finally beginning to acquire the vocabulary of the "ASD" world (that's Autism Spectrum Disorder to the non-members of this club).
And then we watch him and wonder if he's just doing this particular thing because he's three, or because he's autistic.  It's hard not to fill in all the lines with that particular color.
Of course I have unanswerable questions about my son's future – whether he will go to college one day, find love, be happy.  More importantly, I wonder if I will ever really know my son.  Will I be able to sit down and have a real conversation with him ever?  "How do you feel?"  "How was your day?"  "What do you want from life?"  I am surprisingly successful at tidying up my mind each day and putting those ponderings away in a neat little box.
But sometimes those thoughts I push away during my morning ritual of black tea and Newsweek/People/Professional Photographer crawl back up to the front.  Today is one of those days. He had a difficult morning…which means that we all had a difficult morning.  I look at this image of him though and it just makes me want to reach out and hug him so tightly – and not hug him tightly to give him "sensory input" or make him feel loved, but because I just want to embrace the beautiful boy that I have.  Honestly, it's nearly impossible to embrace that- the autism – on a daily basis.  But my son is in there too, sitting alongside the Big A.  He didn't choose to be this thing (or to have this thing, depending on your philosophy about having/being autism/autistic).  And he doesn't understand what it's like to not be autistic.  He doesn't understand how hard Mommy and Daddy are trying to pull him out of the abyss.  I wonder if he cares…
I'm a bit nervous about putting this out "there".  My clients know about my son, as does most of Capitol Hill (it's a small town over on this side of North Capitol Street).  But there are a lot of people that I haven't told.  I guess this post is to just tear the band-aid off.  Get it over with.  I am a consummate professional – like I said, I work my butt off and focus on bringing out the best in my clients' portraits.
But I have a personal life as well.  And today, I guess I'm feeling pretty personal.