Over Spring Break of this year, we went on an "epic road trip" (the use of the word epic usually makes me cringe, but in this case, I'm going to declare that it applies). To save money and to hit various spots along the way (including Birmingham, AL and New Orleans, LA), we drove from Washington, DC to Austin, TX. Crazy, I know. But strangely, everyone in my family has become quite accustomed to long road trips. Just ask the much loved/abused carpeting in our minivan–it'll tell you. My son does surprisingly well in the car, especially now that he is interested in games and some video on the iPad. And my daughter will happily zone out for eight hours straight to episodes of My Little Pony and Scooby Doo on Netflix. We just need to make sure that we stop occasionally at filthy gas station bathrooms along the way, and fill the children's bellies with Sour Patch Kids and McDonald's, and we could probably drive to Alaska without much trouble.
The only wrinkle in this trip was the sudden case of pneumonia I came down with on the way there. Thus, I want to add a disclaimer here about the photography you are about to see: most of it was taken during the time of day at which the Texas sun was straight above us (i.e., the absolute worst time of day to shoot–but I didn't really have much control over the timing), when I wasn't really particularly engaged–mentally speaking–in what was going on around me. I was there physically, but my body had decided to turn off most non-essential functions, including my ability to make good photography choices. 🙂
Anyhoo, the reason we went down to the Austin area was to visit Rupert Isaacson's ranch. I couldn't possibly summarize everything Rupert and his Horse Boy Foundation do, so please go here to read up on everything. My husband first met Rupert at an autism conference that our friends, Julian and Michele, at Kulturecity had organized. My husband came home totally inspired by the idea of creating a "tribe" around our family, one that kind of already exists, to some extent. This tribe includes those people that work with our son (the OTs, SLPs, teachers, etc.) and the people that just "get it". In other words, by creating a smaller world of people who are collectively working to help our son become the best human being possible, and by simultaneously rejecting the expectations, definitions and standards that we play by outside of our tribe (i.e., the usual special needs family story of education-related struggles, rejection, failed efforts to fit in, misunderstandings by others, and the head-banging-against-the-"normal"-wall daily experience of living in the outside world), we could live a much happier life. Essentially, by creating a tribe, we create our own world in which weird and atypical are the norm rather than something we constantly have to define in opposition to the lives that everyone else appears to be living around us–at least, that's the way I'm interpreting the concept of "tribe".
So we went to Rupert's ranch to see how he does it. He has an autistic son (you can check out his various books and documentary), and has created a world in which he and his family have found happiness and developed educational methods that are customized for their environment and his son's learning style. In addition, Rupert likes to share the love, and also welcomes visitors from all over the world who are looking to bring the Horse Boy riding methods back home with them. Rupert and his team have developed riding methods (see my totally unprofessional video here, where Rupert describes how the horse-riding style triggers certain chemistry in the brain that is conducive to relaxation and learning) as well as non-horse-centered teaching strategies. While we are not looking to buy a horse, we wanted to check out the whole Horse Boy package and see what we could incorporate into our own lives back in DC (where I don't think I need to state the obvious–that we will not be keeping a horse in our back "yard").
So here's the man behind it all.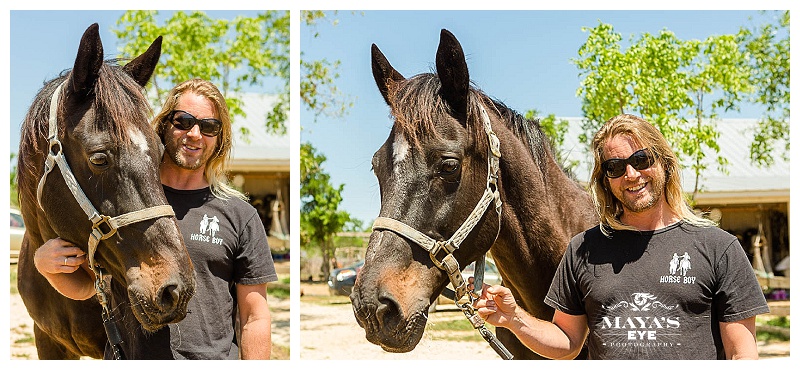 And here is the house where several members of the Horse Boy tribe live. Like I said, I was pretty out of it on my first day there, and a little less soon the second day, but I'm pretty sure that  during our first few minutes inside, I was offered chili and sat down to eat it while some sort of African goats, a dog, and some other creature by the name of Rigby who was adorable, but the species of which I have not a clue. There are not a lot of boundaries between the outside and inside world on the ranch, as far as I can tell, which makes it kind of a paradise for kids like mine. My daughter could not believe her luck—-goats and Rigby's in the house, and giant dogs that she could lie on top of like a rug.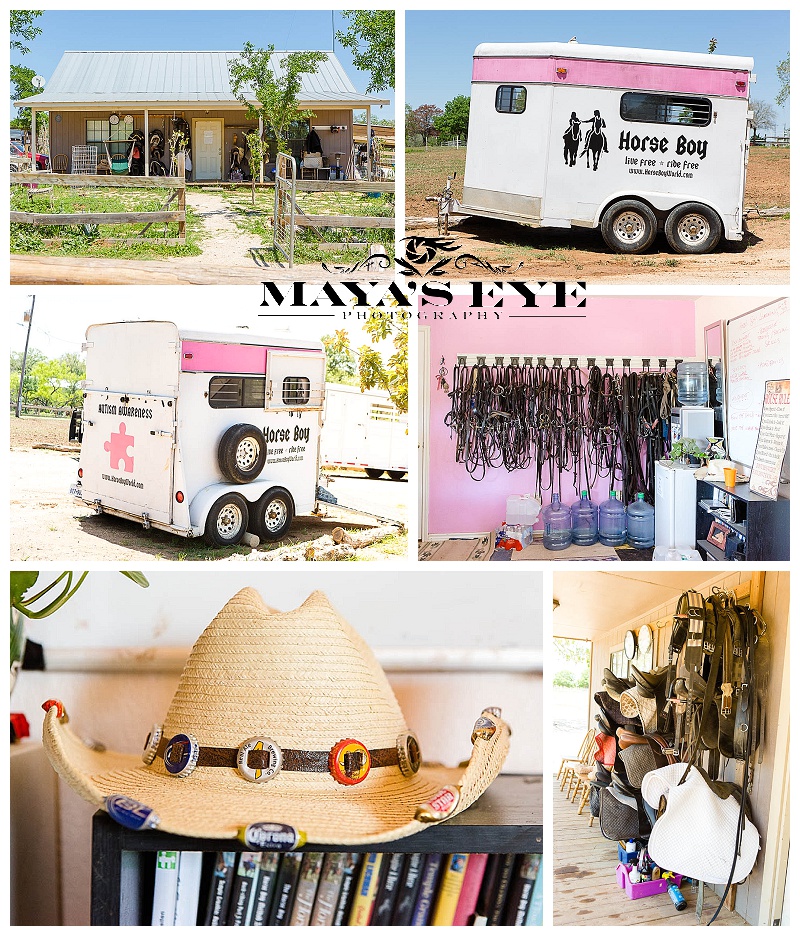 This is where Rupert's son receives some of his indoor school lessons (a lot of the outdoor ones take place on the trampoline, among the animals, or in the Austin area). Jenny, a member of Rupert's team/tribe, works with his son to craft a curriculum that combines elements of more common age appropriate lessons with the boy's interests. They have a whole methodology related to learning as well (click here) for parents and schools.
The walls of the ranch house were covered in posters made to illustrate the learning themes of the week.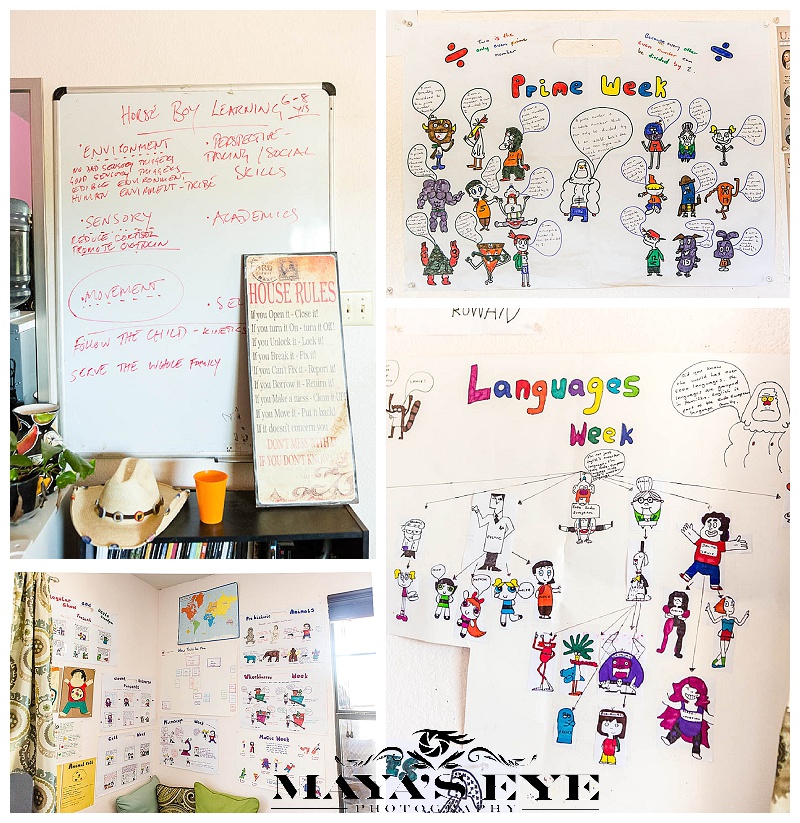 Step outside the house, and  prepare to cross paths with a giant—-but friendly—-pig, as well as a motley collection of other creatures.

On our first day there, I was too weak to pick up my camera, and I do regret that, because I missed capturing my little boy covered, head-to-toe, forehead to chin, in mud. As I laid half-dead on the couch inside the house, my son was running around the grounds under the eyes of Rupert's tribe, getting wild, filthy, and happy. The second I put him in clean clothing, he ran right outside and jumped in a mud puddle all over again. I quickly realized that I didn't bring enough fresh clothing to get us through the remainder of the day. I also realized that I was just about the only person there who minded that he was covered in mud. And licking my finger and wiping off his cheek was not really going to make a dent. 🙂 The following day, I came across his clothing, which had been left outside to dry.
You could literally stand up his pants on their own, they were so stiff. I probably could have broken them in half.

When you visit the ranch, they work hard to make it fun for every member of the family, especially because kids like my daughter start to become quite jealous of all of the special treatment that their siblings receive. There are swings, caged mice, wild animals, tolerant staff, mud puddles, instruments, see-saws, bubbles, and general silliness. Siblings also get a chance to ride the horses as well.



And here is where the magic happens. In fact, local families visit the ranch every week for customized lessons–not only in horseback riding, but in academics as well. Employees/tribe members set up clever ways to teach math, for instance, to children while they ride on a horse.


So after Ileane (pictured above) worked her Horse Boy magic, my son nearly slid off the horse in a puddle of mellowness. Check out my [not] awesome video capture here. He could have fallen asleep on the back of that horse. It was bizarre how jiggling his body on the back of a giant beast (sorry, but horses scare me just a teensy bit) could actually make his brain sleepy rather than…jiggled.
He went from this…

to this.

It was pretty remarkable to witness, even in my pneumonia-induced haze. Our time at the ranch left us with a lot to think about. Then again, being autism parents always leaves us with a lot to think about.
And yes, even though my daughter complained that I didn't take any photos of here, indeed, I did. And she even got to rub her face in a dusty horse mane for an extra sensory experience. Because in our tribe, sensory experiences are everything.

And then, we drove home by way of New Orleans. Damn. That was a long trip. But well worth it.